Testimonials
We've had hundreds of emails in response to our custom tuning. Here is a snippet of the many testimonials we've had...

From our Email:
"Lyndon!
"How have things been going?
"Sorry I have been so bad about communicating this season, but it has been busy and going very well!
"I just want to give you an update on how the car has been doing and our future plans for the sport (possible big news!)
"Changes to car this year
"The big thing we worked on this year was some aero dynamic items. If you remember last year we were using carbon fiber rear spoiler.
"This year we developed a front splitter for the car to help with the front end down force at higher speeds (see picture). This went through a couple versions changing the material and height of the splitter.
"The splitter is now made of di-bond. It's a light weight material made of two very thin sheets of aluminum with a polyethylene core.
"Events up to the National Championships
"The car has been running very well this year. Locally I am leading the overall points race. Nationally we have been doing very well too.
"Tim, my co-driver, took 3rd place at the Toledo Pro Solo. I took 2nd at the Peru National tour. I was leading the first day but fell back the second day by 0.2 seconds! Frustrating, but the driver (also a good friend) who beat me is very good and won a National Championship this year.
"The car has been flawless this entire season! Only problem we had was an overheating issues we had at a local event right before the national championships. The engine coolant temperature sensor is located very close to the turbo down pipe. If the protective cover is not slipped over the ECT sensor it will melt. This caused to the ECU to think the engine was running about 35°F cooler than it was and wouldn't turn on the fan.
"Replaced the sensor and connector and wrapped the down pipe in exhaust wrap to help keep the temps under hood down. Problem solved.
"As always the car gets noticed at events and on the trailer to events. Lots of questions about it. Like before, I make sure I plug Wester's Garage for unlocking the power potential of the car!
"National Championships
"Last week was the SCCA national championships in Lincoln, Nebraska. After the first day I was sitting 3rd place and 0.004 seconds out of 2nd place and 0.303 out of first. Tim was back in 6th place.
"The second day brought 25°F cooler temperatures and spitting rain. This didn't help us against the class dominant All Wheel Drive Mitsubishi EVOs. I ended up falling back to 4th place but Tim picked up a spot and took 5th.
"Tim and I took the last 2 trophy spots but were still disappointed since we would have rather been in a podium position or better yet 1st place!
"In the overall results we were very happy. I finished 93rd and Tim finished 100th out of almost 1200 competitors. Many of the people we finished ahead of are multi time national champions.
"Future Plans
"I had tossed the idea around for a while about prepping the car for a higher performance class, F-Prepared. This class takes production based cars and turns them into non-streetable machines. One of the major modifications is weight reduction. We will be able remove the convertible top, strip the interior, remove the windshield (no turning back after that) and light weight composite body panels
"One of the big items/cost is tires. Even though I am a Test Engineer for Cooper Tire we did not make a tire I could use for the current class (had to be DOT Rated). Hoosier was one of the only tires I could use.
"Looking at running in F-Prepared I can run any tire I want. Well, Cooper Tire and Avon are the same company and Avon makes some really good/fast race slicks.
"I discussed the idea of Cooper providing these tires and re-branding them with the Cooper name instead of Avon. This would provide for better marketing in US since Avon is primarily a European operation.
"This will aid us immensely since the Avon tires are the fastest one's out there (I feel very lucky to work for this company!)
"We have some stuff to sort through on this before we fully decide to take on the endeavor. If this happens I will be joined by one of my co-workers and 2-time national champ Chris Raglin.
"As the car sits right now I would have taken 4th in F-Prepared so we are hoping for total domination of the class in the next years :D
"Again, I hope everything has been going great for you. I have enjoyed and continue to enjoy working with you.
"Let me now if there is anything I can do for you guys!"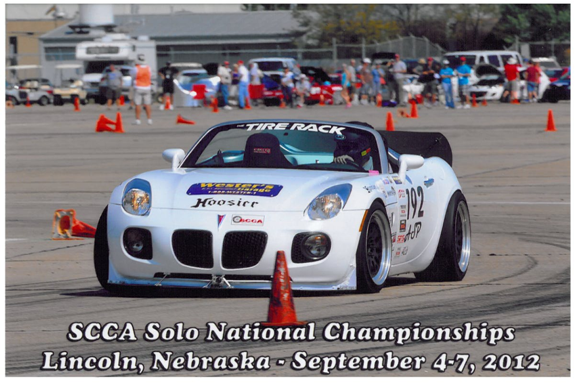 -- Alex T. J. - 2007 Pontiac Solstice GXP

"Lyndon,
"Doubt you remember me, but I was the guy from the US that was having all the trouble with his 2003 Envoy computer and you were helping troubleshoot over the phone. At one point I promised you some pictures when it was done. I was traveling in Australia for a year, but I am back now. Well, it's still not really done. I don't think these projects are ever as good as you want them to be, but I got it running right before I went to Australia, and it is a beast. I was looking for another old email to get some more parts I need now, and it reminded me I owed you pictures, so here are a few, if you are curious.
| | |
| --- | --- |
| 1. Inboard breaks on Ford IRS 8.8's with 4.10 gears (posis and lockers of course) | 2. Custom gas tank and remote radiator |
| | |
| | |
| 3. Independent suspension all the way around with 18" travel in front and 25" in the rear | 4. The dash board you helped me with (was in a hurry when I made the case... I'll fix it some day, but it all works except the speedometer) |
| | |
"Anyway, thanks for your help."
-- John

A Sunfire ECM on a Dirt Track: http://youtu.be/mrW_dcHFOQQ

"Hi Lyndon-
"I have finalized my mod list. These are all of the mods to my truck that I want to incorporate into the tune:
Whipple Supercharger kit made for 96-98 Vortec 454 as delivered (unmodified). The kit advertises 5-7lbs of boost for this application.

42lb matched injectors supplied by you.

78mm bored throttle body from Xtreme-FI.

Flex-a-lite dual fan kit PN 280 with manually adjustable on/off fan control. I will adjust this as needed.

180 degree thermostat

Stock cam, stock heads, stock internals - engine has never been opened up

Stock fuel pump

Edelbrock TES shorty headers

High flow replacement catalytic converters

Magnaflow dual 3" in / single 3" out muffler

Performance distributors firepower vortec ignition w/wires.

New AC Delco platinum replacement plugs gapped to .050

5.13 differential gears (stock ratio was 4.10)

37" tires - Toyo Open Country MT. Specs (from their website): Diameter = 37

Transmission: 4L80E with B&M trans pan and external HD cooler. It was rebuilt and supposedly beefed up 10k miles ago.
"The truck is a toy. It weighs about 7,500lbs. I use it for hauling/towing mostly and drive it to work occasionally. I tow a 7,000lb tow behind trailer with a fully loaded bed several thousand miles a year. I live in Southern California a few hundred feet above sea level. When towing I can see altitudes of around 7k feet over some passes with some decent grades. Outside temps here in SoCal are mainly between 70-90 with 20-30% humidity. I spend little time in winter conditions; just short jaunts to visit family in the mountains.
"The truck has no 'pre-existing conditions'. It doesn't have any existing trouble codes. I get about 12MPG now in highway driving while unloaded (not too shabby for a lifted truck). The engine runs cool with temps between 200-210F. The engine doesn't burn oil. I still need to pass California emissions tests once a year.
"I have datalogging capability as you know. AFR, EGT, OBD-II data, Boost. Please let me know what if any data you need when I start running the charger to make sure we have a good tune. I attached a few pictures of the truck for you. If you need any more information, please let me know. Otherwise, I look forward to getting the updated ECM and getting the charger bolted up!
"Thanks,"
-- Russell

"Hey Lyndon just wanted to drop a line had fun this summer. You tuned my TBSS last year with a mild tune for premium with a 100 shot. During the summer with nitrous timing adjustments managed a 13.2@112mph up from the 15.4@92 stock numbers. Transmission is even still solid. Great work on the tune. Almost off power train warranty so may need a new tune in the future after some hard parts get swapped out. Maybe try to get into the 12's.
"Cheers,"
-- Jeff

"Hi Lyndon,
"I had a 1996 LT1 computer tuned by you for my 1931 Model A. At that time I said I wanted as rough an idle as possible given my camshaft and you delivered such a tune ( sounds great). I had also modified the intake such that it essentially was a ram-air setup with a hood scoop. (pics attached). At that time you mentioned given this setup there might be some problems with the mass air flow getting confused. Well, I do get the odd stumble like a miss. When I removed the mass air flow from the equation so it was forced to run speed density this goes away.
"So after driving the car like this for a few years and almost 20,000 miles, I've decided that I'm ready to give up the lumpy idle and stumble and was wondering if there would be a cost and if so how much for you to put a normal tune for an LT1 hot cam and also change it over to speed density.
"thanks in advance,"
-- Mark

A customer of ours: 6.2L LS3 wrangler stock rotating assembly, ported heads, mild cam, 250hp NOS. Running 4.40sec on 100 yard sand drag track. See it HERE on YouTube

"Lyndon,
"We competed at the SCCA Northern States Championship this last weekend in Toledo, Ohio with great results! This was the largest Solo event so far this year with 354 competitors.
"I took 1st place in my class by 1.202 seconds over a very good Mitsubishi EVO driver (and a fellow friend), Corey Ridgick. http://www.scca.com/popup/raceresult.aspx?event=17145&file=1331 Scroll down to B-Street Prepared
"On the overall Indexed results I placed 5th
"There is another type of indexed results call SNAP. This one actually placed me in the #1 position out of all 354 people.
"On a different note there was another GXP there running a competitors tune for E85. He boasted about 420 ft-lbs of torque… but could only go to 6000 rpm before it would break apart.
"I told him he was shooting himself in the foot by limiting the RPM. It was bad enough that after the first day of competition he emptied his fuel and re-tuned it for 93 octane.
"We had our second local event for the year on Sunday. Despite the cruddy weather it attracted people to drive 5 hours for the strong competition. I was able to take 2nd overall, would've had 1st but I coned it away on my 4th run.
"Overall results can be found here: http://www.nworscca.com/attachments/results/2011/2011_e2_index.htm
"Thanks again, I get questions/comments about the car all the time and make sure to give you credit for uncorking the power!"
-- Alex T. J. - 2007 Pontiac Solstice GXP

"Recently you did a program for a customer with a 1500 GMC which had the Holset turbo, modified exhaust manifolds and cryogenically frozen crank..... Ring a bell? Name P********?
"Anyway, he called to say it is working great, also dropped his 1/4 time by over 2 seconds. He's very pleased with the results."
-- 1995 6.5 Turbo Diesel Customer

"Hello Lyndon,
"I thought I would give you some feedback on the tuning you did to my 2007 GMC Acadia.
"The gas mileage has improved by 2 L/100km at speeds of both 100 and 115 kph on the highway. I have not kept track of the mileage in the city yet, but it seems to be much improved. The bottom end torque in stop and go city traffic is greatly improved. It is a night and difference from what it used to be. It definitely gets up and goes with far less effort when the traffic light changes. On the highway the engine holds its speed (rpm) a lot better. It use to always loose power going up even small hills which would force the transmission to always kick down. Now it just sails along without all the down and up shifting of the transmission. It still will kick down to a lower gear on the larger hills but this is normal.
"The only thing I'm not sure about yet is it seems it may stay in 5th gear too long on the highway after it has shifted down for a hill and the vehicle has returned to level ground. Not sure. It just might have been a crosswind that was giving me grief.
"I'm leaving to San Francisco with this vehicle on Tuesday for 3 week. If there is anything else I will let you know, but for now I am extremely happy.
"Thanks,"
-- Larry - 2007 Acadia

12-8-2010 - "Several months ago I purchased from Wester's Garage their ECMPro scan data logging software. The software has been great in getting the info my tuner needs to get my '96 Corvette running at it's peak. It's fairly easy to navigate through and will handle all the PID's I throw at it. Not just three or four like some of the other cheaper OBDII data logging software out there. Just recently I purchased a wideband 02 to help in getting even more info to my tuner. Lyndon has been great in helping me get it synced up with the ECMPRO so all the data can be viewed on one page on my laptop instead of on two separate pieces of hardware. If you're in the market for OBDII data logging software I high recommend you take a look at what Wester's Garage has to offer! You won't find a better person than Lyndon to make it all come together for you!"
-- Mike

One of our customer's trucks was featured in 8-Lug magazine! Check out the spread here.

One of our customer's vehicles... check it out!! http://www.youtube.com/watch?v=Jte5xrYJl8g

"Looking for mileage tune, stock truck. 2008 gm we did about a month ago, with high flow exhaust, no dpf & air intake went from 550 to 930 kms to tank of fuel, got a case of beer for that one. Thanks"
-- Ken

"Lyndon,
"A customer we did a caddy CTSV for called me this morning extremely happy to tell me about his outing at the race the track last Saturday and I wanted to pass the information on to you since you're the guy who deserves all the credit here. Before his tune back in 6/09 the cars best time was 12.14 @ 112mph. Yesterday was the first time it's been back to the track since then and it went 11.62 @119mph and that was walking it out easy with the stock tires. He thinks it will go faster with a harder launch.
"This guy owns a huge car service that been in business here since the 50's and he always had the fastest cars around so he very respected at the track and when he put those numbers down everyone at the track started asking him what he had done to the car so of course he told them all it has is a tune (no one believed it) and who tuned it. There was a guy there with a CTSV that had headers a full exhaust, pulley, and tune that only went 11.40's. That car was done by the same shop that tuned his GTO years ago so he thinks 'there are a few more screws to turn on his GTO computer.'
"He is so impressed with this tune he would like us to have a look at his 2006 GTO. He is not completely happy with it anymore after seeing what you could do with his Caddy he is sure the GTO can be better...."
-- Thomas Caladrino - NYC Performance Tuning - Cadillac

"I got the ECU today and installed it, WOW I am very impressed the car is fast and fun. Thank you for all of your help. I have included a pic of the car that got a new brain. Thanks."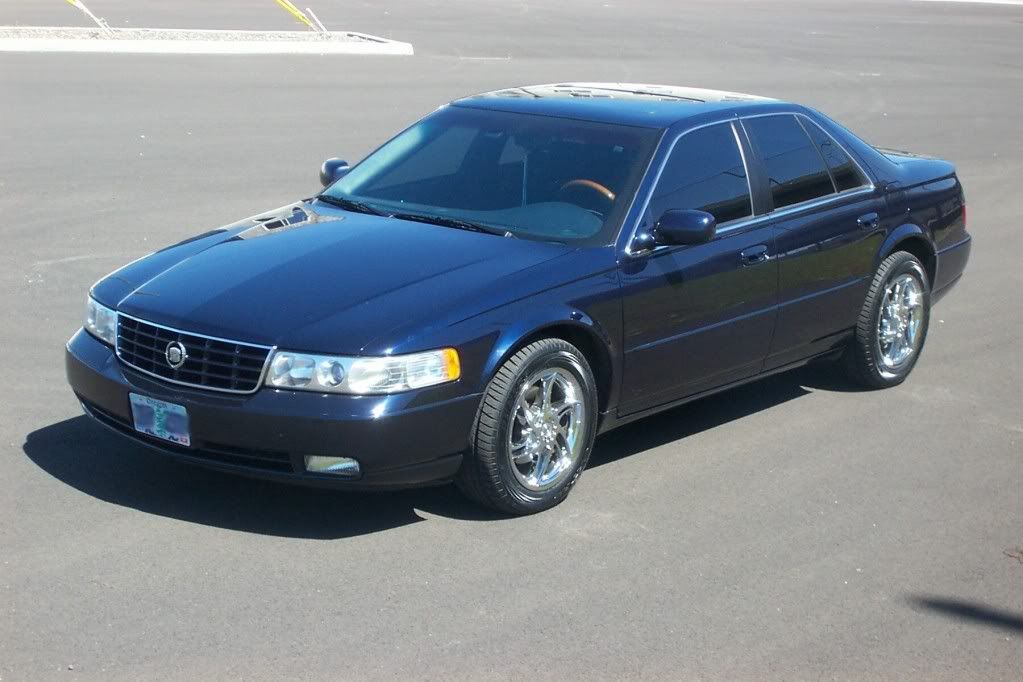 -- Bill - 1998 Cadillac

"Well, here's one of the good customer feed backs, this guy say's before burn he always used in the fuel range of 14-15 L/100 km, now he say's he uses 8 L/100 km of fuel on the highway, has more power than ever. I asked him if his factory fuel monitor system was off, he say's no, because when he fills it up, the litres used are the same calculating out manually as with his factory monitor .He has driven truck 3000 km's since burn was installed ..... go figure this !!"
-- Richard - 2005 Duramax

"Hi, Just a follow up on the work you did. The truck showed 14.2 litre/100 km on the way down and 12.6 litre/100 km on the way back to Coronation. Not bad for -36 degrees [Celsius]. It is quite a bit more responsive than it was and it seems to run quite freely. I am impressed. I was wondering if you can adjust the remote start to run for a 1/2 hr and start more than two times. I find the 10 minute setting from the factory to be a nuisance. Thank you for now and best of the season to your family and staff."
-- Keith G. - 2007 GMC

"Lyndon, Here are the final dyno results with nitrous. What do you think? Not bad for a little six, huh."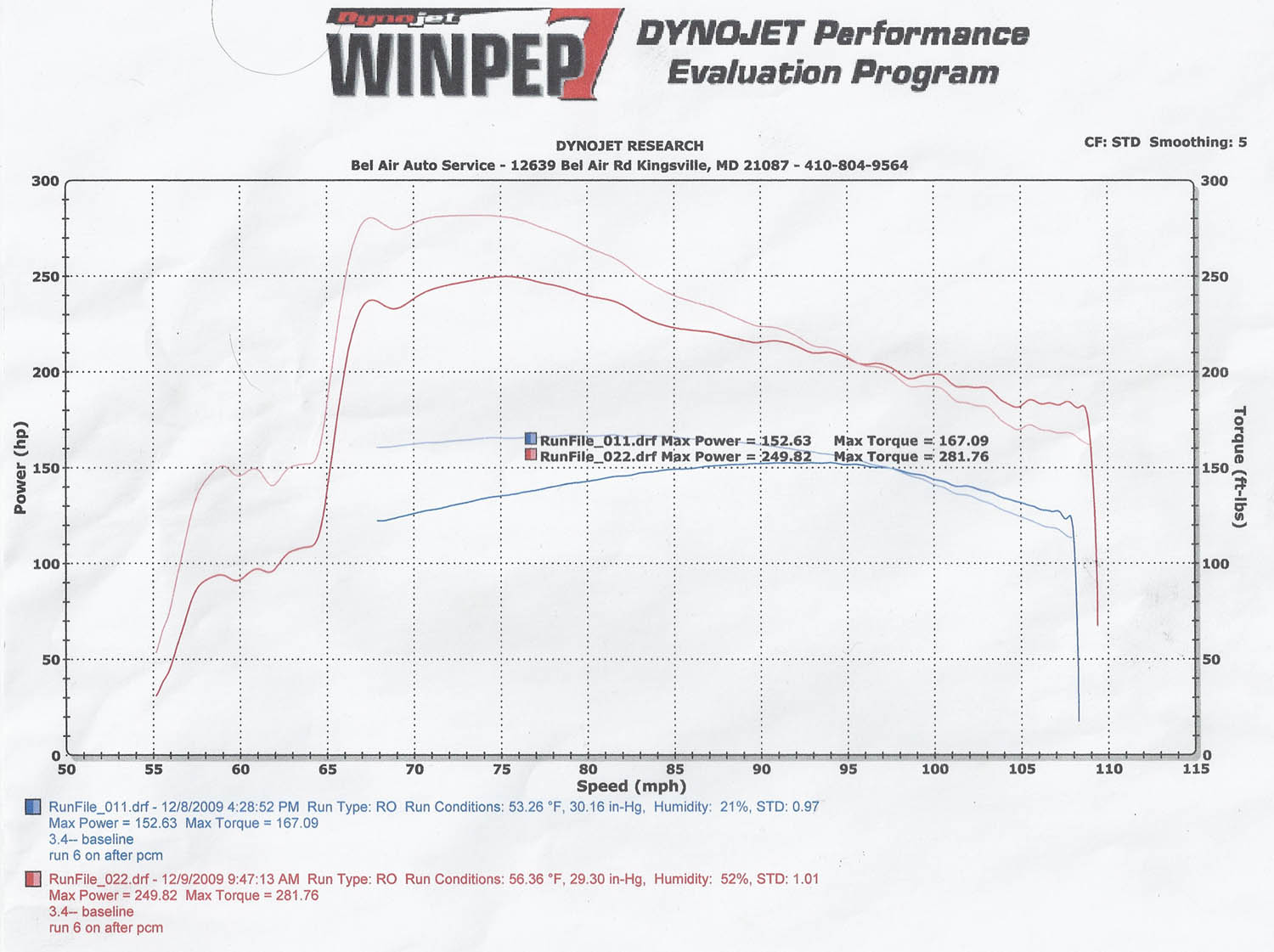 -- Chris V
"Don't get me wrong Lyndon; car runs great, especially now after your tune! Like I said, from what I can see you have implemented a nice timing curve and air/fuel is great! Car is nice and lopy at idle and hesitation around 2k r's is gone! Car just takes off and has very fast, consistent gains! I can FEEL the additional torque, low end.. believe it or not but this little six actually pushes you back in the seat slightly! Next week we are going to dyno with my zex (wet-kit) starting with 75 then 100 and if everything seems fine; we will leave it rest with a solid 125 shot!!! which will put me close to 300 at the wheels give or take with drive train loss. Just disappointed that company who built motor gave me wrong #'s! I believe in getting what you pay for!!! but you did great! Very stout six now! Oh yeah by the way she barks second at WOT!
"Understandably your work is done but if your curious what all I get out of my (project six cylinder) after we do next dyno runs, I can send you dyno results to see what this baby is actually going to be putting out at the wheels!!!"
-- Chris V

"Just got a report back from the customer we reflashed on Wednesday, after doing a catectomy and your program he says has more power and better performance than his 5.3"
-- Dale Adams - Dale Adams Automotive - 2001 4.8L Chevy

"Customer we setup last week with the 2003 Chevy Trailblazer 5.3L stopped in today just to let us know how happy he is with the tune. He claims 'The power is amazing and the 3 MPG increase is worth every penny!' Thanks Again"
-- Cam - Port Sheldon Auto