Testimonials (Page 2)


"Hi Lyndon,
"How are things going "Up North"?... 2 weeks ago we competed in the SCCA Solo National Championships in the B-Street Prepared class. This class has been a hot topic in SCCA because many people feel it is dominated by the Mitsubishi Evolution and that no 2WD car could compete. We were trying to prove that was not true (as long as it didn't rain!).
"Well after the 1st day I was sitting in 3rd position in a 26 car class. The 2nd day I was trying to catch the 2 front runners but couldn't put a decent run together and ended up in 4th. Although I did enjoy the defending national champion coming up to me at one point and telling me to slow down :P
"The car received lots of attention from many competitors and spectators. The announcer at the awards ceremony also made it clear to everybody that it was a Solstice GXP, not a Mitsubishi Evolution.
"Overall at the even I was 97th out of ~1200 competitors! I couldn't be happier, besides being 96 or better :).
"Next year with a little more suspension and chassis development and a diet for the car we think we have a very good chance at winning the National Championship.
http://scca.com/documents/resultfiles/2009%20Solo%20Nationals%20Final%20Resultsf2.pdf (B-Street Prepared results are down on page 31)
"Thanks again for all your help! We wouldn't have been able to do so well without it!"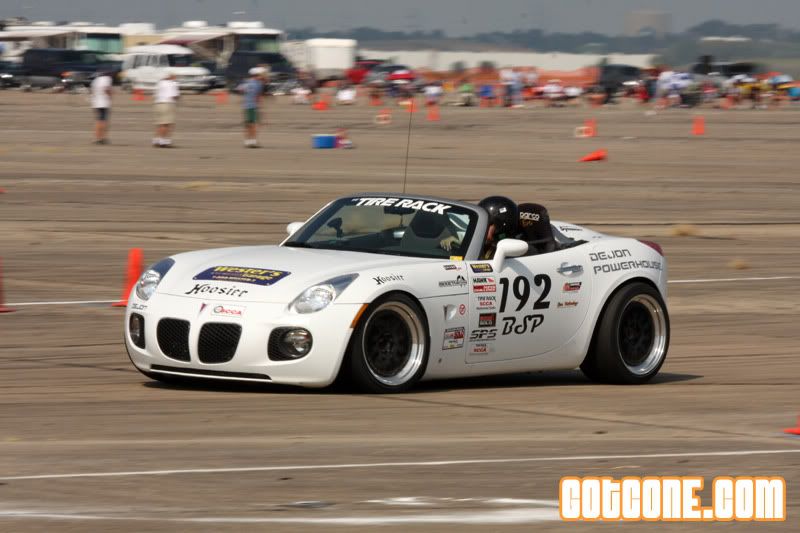 - Alex T. J. - 2007 Pontiac Solstice GXP

"Just wanted to let you know. My little brother drives this truck and has currently been working out in Med Hat for the last couple months. He drives back to Lethbridge every weekend. He has been traveling that highway netting 26-28 mpg. 100,000kms on it and synthetic oil. You got a hell of a tune in there. Close to 800km to a tank of fuel. Little oversized tire on a 4x4. good job bud. Keep this tune on file!"
- Colin R. - Davis Pontiac Buick GMC

"Hi, I'm just sending a note to commend you on your Solstice GXP tune, and no doubt your other products. I recently got the tune for my wife as a birthday present and we couldn't be happier. It is like a different car. Overall driveabilty is way up, power of course is silly for a 2-litre engine, and it is even seeing better fuel economy numbers....
"Again, thanks very much, awesome job. Starting a tire fund for spring."
- Dave M. - Solstice GXP

"Just a couple of updates from the races. The 2010 Camaro ran a 12.10 with traction problems… he was running faster than any of the supercharged mustangs that were there (there were a couple)…
"My own truck on the Friday night street legal's ran consistent 14.6's, and the Allison wasn't liking it in 5th gear… boy I've got to get that trans built. I was the fastest near-stock diesel there. The Cummins boys were running in the low 15's. The twin-turbo, twin-pump, nitrous built Cummins were not doing well for reliability, one guy scattered his bottom end all over the top end of the track. The other guy was tinkering with his truck all weekend and he had to get towed off the track after his last run… problem is that he uses that one for work too.
"The twin-turbo convertible vette with the manual 6-speed was running 12.6's on street tires, but traction was a HUGE problem for him.
"Another convertible vette that you recently DPS-LS2 tuned was indexed at a 13.5 and he ran a 13.3.
"They had more than 300 cars show up, and they had to start turning some away. It was much bigger than anyone anticipated, there were nowhere near enough grandstands for everyone. The pro and super-pro classes were huge, I started to loose track of all the different chevelles / mustangs / camaros / challengers/ chargers running."
- Joel P. from Paynton Performance

"Dude – it is fantastic! Like you said – 20% quieter and it DEFINITELY spools faster! The car is such a blast! This is definitely a marketable tune – it feels more civilized, yet more powerful at the same time. Thanks Lyndon – can't say enough. I really can't wait to see how you integrate the GMPP stuff to really open this thing up!"
-- J. M. - 2008 Solstice GXP

"All Good!! This customer cannot believe the improvement and power gain! with mileage. The truck was up at Sportsman Light truck and they were amazed with the performance of the D-max. The truck out performed there twin turbo Dodge diesel. Right on man !! Thank you Lyndon"
-- Wayne Sundberg from Sunoka Custom Tune (emailed custom tune from Wester's Garage) - 2006 Duramax

"Ever take a kick at one of these units? You did Bin file last year for a fella Bob ******. Bob gained 2 miles to the gallon and complete change in the drive and performance. Now his friends are calling about there motorhomes!"
-- Wayne Sundberg from Sunoka Custom Tune (emailed custom tune from Wester's Garage) - 2005 Ford E450 V-10 Motorhome

"Lyndon,
"The tune has been working great! My co-driver and I took 2nd and 3rd (out of ~140) at our local season opener. This Sunday were attending an Autocross that should have some good competition.
"I also took some pictures of the car last night and thought you might like this one (See photo above
).
"Hope all is well up in Alberta!"
- Alex T. J. - 2007 Pontiac Solstice GXP

"Good morning Lyndon,
"Well I had some feedback from this customer, all positive the customer had his T-bird Dyno tune at Brown Bros. Ford in Vancouver with a Diablo Delta chip. His comment was:
"Man there is no comparison between tunes the custom Westers ECM tune pulls 3x harder than the Dyno tune From Brown Bros, Ford. Thank you, you guys are GOOD! -- Chris E."
-- Wayne Sundberg from Sunoka Custom Tune (emailed custom tune from Wester's Garage) - 1996 T-bird

"Hello, This is an email to Lyndon and the rest of the staff at Westers. My name is Cory, I had the red grandprix with the shift problems! I just wanted to say thank you very much for helping me with the pcm's and the work you did today on it to get it right. It works great now, better than before, and i really appreciate the help, its almost impossible to find that kind of service in the city here, and i would not hesitate to dive twice that far to get the service from you guys. Thanks again. Cory"
-- Cory - Pontiac Grand Prix

"Lyndon...I posted up this picture slip on a couple forums and some people are going nuts asking me how that's possible. I simply respond with "3 words my friend. Westers Race Tune." Of course I give them your info also. I hope you get some sales from this advertisement haha. Feel free to put the pictures up on your website if you feel like you want to :) Check it out :)"
-- Carlos L. - 2008 GXP

"Hi:
"I am a VERY happy owner of your "hot" tune. I'm writing to see if you have made any upgrades since I had my tune installed at DeepBlueGXP's Mod Meet a while back. I'm especially interested in what GM is coming out with, and how it might be tweaked by you.
"Please keep me posted if you come up with something to make my GXP faster....
"Thanks very much. You have the BEST tune out there !
"Regards,"
-- Charles W. (Todd) Schrack - GXP

"Response is good! I wish I drove the truck first, before I installed the first tune.... His remarks were 'The tune so good I put on some long hair music and pinned it!' Jim is a 49 year old plumber that has no cares in the world a very relaxed man!"
-- Wayne Sundberg from Sunoka Custom Tune (emailed custom tune from Wester's Garage) - 04 Chevy Truck 6.0 L

"The only thing he said was 'Why did I wait so long to tune my truck'....WOW!"
-- Wayne Sundberg from Sunoka Custom Tune (emailed custom tune from Wester's Garage) - 99 Chevy Truck with 87 Hot tune; 5.3 L stock truck

Check out this guy's feedback: http://www.gm-trucks.com/forums/

"Hi Lyndon, Back in 2003 I bought a PCM and tune for my 2003 Vette. We then exchanged several emails regarding the exceptional performance of the car. Don't know if you remember or not.
"I have since gotten HP Tuners but the car has never run as good as when you tuned it. I would like the latest and greatest tune from you and was wondering if I need to send you the PCM or can you send me a file I can load using HP Tuners. Thanks."
-- Bob K. - 2003 Corvette

"Lyndon, I have test the H2 the tune is great and its faster than his H2 friend with hp tune. Thanks a lot."
-- Maktoom, Kuwait - 2008 6.2L Hummer H2

"Hi Lyndon,
"See attachment [dyno graph]. I think it is what I should have expected. Just wanted to know if you had any thoughts. They Dyno guy said something about the tranny kept downshifting due to the tuning - they weren't perfectly set up for diesels. In any case, there were probably 20 other trucks that ran and didn't have any issues.
"My personal feeling on the driveability is that you wouldn't even know its there. Shifting is great and so is the power. I actually gave your info to another guy with an LBZ that ran 525 HP. He is running PPE and hates the shifting, etc. His name is Matt O******* and he'll probably be calling you.
"Best Regards,"
- Dave F.

"Lyndon,
"After speaking with you this morning on the phone I installed the Tune. All I have to say is wow what a difference. Its night & day between your tune and the diablo performance tune. Power delivery feels much smoother, and it pulls harder top end. I'll have to wait to see the change in gas mileage, but with the power difference in the tune I could care less about it. I am very satisfied.
"I'll let you know when I go catless and Long tubes for tune changes."
- Preston C. - 2007 GM Truck

"I just wanted to send a picture of our start jump. We had a great race this year, but unfortunately coming up short and not finishing (next year!). Thanks to everyone that supports us and the race effort!" (Click to see larger picture)
Our Logo is on the back fender!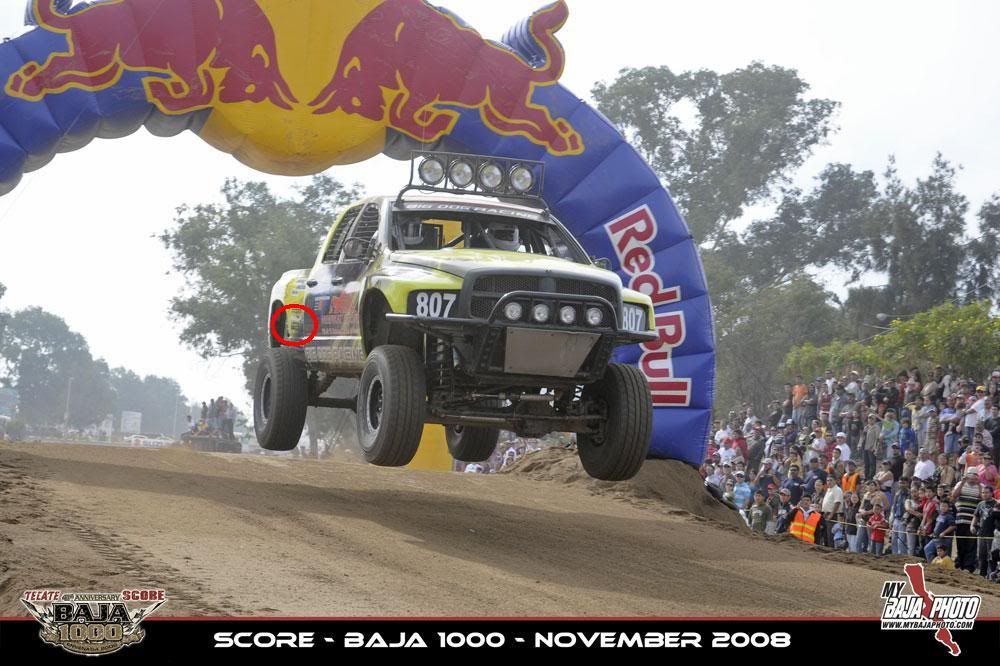 - Richard

"Lyndon,
"Check out my new fuse box plate. You should see a familiar name on there LOL. People will see it at shows and hopefully ask about you! Thanks for taking care of me."
- Steve M.

Please visit the Solstice Forum for additional feedback... TRUST US, read to the end!! http://www.solsticeforum.com/forum/f43/westers-tune-3-major-problems-50724/

Here's a Solstice Dyno Run of one of our customers: YouTube Video

"Here is a picture of our customer, 'Rich from Roswell', that was on the hit TV show 'Pass Time'. Here he is shown with tires leaving the ground and this is with NO TRANS BRAKE!! Automatic car runs 11s in the quarter with just the heads and cam package."

"Hey Lyndon,
"Just letting you know the LS3 truck ran a 13.6 @ 99MPH. It was pretty consistent if I could keep the tires from spinning. I'm happy with the results so far. Hopefully in the hat on the 12th/13th I can improve on those numbers a bit more.
"Also I hope you remember that Denali I put a rear mount turbo on. I'm just waiting on a converter for it and hopefully we will have it up to you in 3 weeks time. I know you are busy but this is my customers daily driver so hopefully a week is long enough for ya if you can kinda schedule it in to finish up the tune. Thanks."
- Davis Pontiac - See News Page under July 2008

"Lyndon,
That C5 tune we did a few weeks back on a 97 lsi stock everything except tune on drag radials and a 150 shot of giggle gas 11.30 backed it up 3 times. Gonna spray it next week with a 200 going for a 10.90. Thanks"
- Scott H. - Mass Diesel (email tune for a 1997 Corvette)

"Just got my pcm back today from you, QUITE impressed with the power improvement, very noticeable, Also my trans temp is quite a bit cooler even after several hard runs, not sure on the mpg yet.....only got it back 4hrs ago!!!! THANKS!!"
- Vince V. - 8.1L GM 4x4 Truck

"Ran a new P.B. with the LS3 truck. Went 13.31 @ 102.3MPH in the Hat on Saturday. Not bad with a 31.5" Tall Street Tire." (See "News Page" July 2008)
- Colin R. - LS3 Truck - Davis Pontiac Buick GMC

"All went well and a 2nd gear pull resulted in tire spin and a "Oh my God !!" It is rainy here so have not had a chance for a more extensive evaluation. I want to do a couple runs - like a 3rd gear pull from 2000 rpm on up - so we can look for any knock and check a/f ratios. Initial run showed 25 psi dropping to 23 or so as rpm rises. You can actually hear the chassis straining to couple the power to ground.
"Is there still any learning function in pcm?? At 25 psi, it is scary fast. Hard to imagine the launch control will work anymore. Even stock, it had a hard time keeping optimal wheelspin.
"Thanks. Great job. Scan file to follow when weather improves."
- Frank P. - 2008 Chevy HHR SS

"Hey Lyndon.
"OK had some fun this weekend, I discovered I don not have a clue how to remove the turbo on the Solstice, But I did replace the exhaust gasket at the turbo/cat car is running very strong no more popping and mileage is very good as long as I behave. I do not see over 23 psi but it pulls very hard. Tune is running great.
"The GTO, not sure what you did, but car is smoother and is easier to drive according to my son. We just drove a little before he went home, when he got home he called me and told me to tell you thank you very much, it is running much better. He got in it to pass someone on the way home and told me he was at 110 in a blink and gone. He likes it much better than before.
"Thanks Lyndon!"
- Jim G. - 2007 Solstice & 2004 GTO

"I was surprised the truck is quieter and runs a lot better (wow performance) on dash computer for gas mileage up about 5 mpg in the city. I am going on a road trip this morning about 2 hr ride on the highway should help the relearn let you know how I find it over the next little while including a 10 hr drive with a 28ft 5th in the rocky mountains."
- Paul M. - 2003 Duramax

"I am a happy man. I picked up the PCM after work and boy I was surprised it got here so fast. Thank you for all your help and you have been a class act the whole time especially with communicating and taking care of me. Truck has been awesome to drive. First thing I noticed was how responsive it is when initially taking off and when accelerating. Shifting seems a million times better and highway behavior is miles ahead of what it was before. The hummer in nature has a pain in the butt time of staying in gear while on highway and also keeping current speed. It always feels like it is over working to stay at a constant speed and only feels normal when driving on completely flat road vs any small incline I (part of that problem prob with that its weight and AWD). So the biggest thing I wanted to pay attention to was how it responded when getting up to speed on highway, how it maintained speed, and if it had to work its but off to stay at a current speed and gear. I must say it feels like it should, it was completely 100% better, accelerated with ease to 70, held its gear great, and stayed at its 1800 RPM'S while at 70 and did so while driving up inclines on the highway. I was very impressed especially after driving it the past two months while I have had it. I prob only pressed the accelerator down like 10-20% while accelerating to get on highway and it took off getting up to speed with breeze. Before I almost had to completely press the pedal all the way down to the floor. So for the first 50 miles I put on the truck today, I am a billion times satisfied and can't wait till I put tons more miles on the motor with it really responding to the tune. Thank you a million and I will prob send you emails intermittently to let you know how things are going and some day ill get into posting on denalitrucks and I will throw you out a huge thank you and shout out for all you have done, THANK YOU A TON!!!!!"
- Richard C. L. - 2008 Hummer H2

"This man has had both a Bully Dog and an Edge reprogramming systems in his truck and this is the first time he has towed his trailer for a long weekend and no MIL. He phoned me back Tuesday morning to say how nice his truck ran and he was thrilled. Thanks for your help. Have a great day."
- TJ from TJ's Auto Repairs - 2005 Duramax

"I just installed a 89/91 "Hot" tune. Here are my impressions:
"First, let me say that I was somewhat skeptical that I would really notice much of a difference--especially right away. My expectation was that I would have to drive for 100 miles or so and then would feel a slight to moderate improvement. So you can imagine my surprise when I felt the difference immediately.
"Everything is better. The throttle response is significantly improved. The engine revs more quickly and without any hesitation. Even on partial throttle the engine feels like it is generating much more power. The shift-points occur at 400-500 more RPM. I got on the freeway and hit the gas hard----WOW. The tack shot to over 5,000 RPM and the truck blasted forward. No more hesitation, no more reluctance to rev, no more feeling that the truck was fighting me, no more sensation of additional noise but no additional power.
"In short, the Wester's Hot tune is the best modification--by far--I have made. In fact, if I could only make two mods to an NBS SD, they would be the Wester's Hot tune and the Hellwig rear sway bar.
"Amazing."
- Bruce S. - 2007 NBS 5.3L GM

"Hey Lyndon,
"That was me that came out last Saturday. I went to Edmonton this morning and measured my fuel mileage. I filled up just north of Calgary at the Petro Pass on Country Hills Blvd and then again at the Petro Pass in Nisku which is a distance of 260.x km. I only burned 29.0x L which if my math is correct using 1.61km in a mile and 4.546L in a gallon I averaged 25.3mpg. I'm pretty sure there was a bit of a tail wind but none the less just over 25 mpg is still pretty impressive especially with the cruise set just north of 120km/h for the duration of the trip with the exception of a couple construction zones. I will definitely be recommending this product to my buddies. Thanks again"
- Charles M.

"I barely got 150 miles on my new tune for this past weekends pulls. Gotta tell you THANKS. I really got hooked up and took my very first 1st place with a 311' pull. I bested the 30 truck field by more than 50 feet. That included the NELSON, PCM 4 Less and that pesky DODGE along with a track favorite that had a cam and some head work."
- Larry W. - 2002 6.0L 4x4 GM Gas

"Hello, I just received my new ECM from you. I read the directions for the install off of the GXP owners forum, read the directions for the key learn from your web-site, I followed them carefully and did not have any problems. I must say that the tune is quite impressive. Pontiac should have come to you guys for the information to make their car run. Up here in Alaska we have a little open road so I can tell you for a fact that the car has a lot more pull from 100mph up than it did before the tune. (A LOT! More) Thanks for the great job."
- Steve M. - 2007 Pontiac Solstice GXP 2.0L Turbo

"Hi Lyndon!! Just thought you might have some use for this tidbit. This is pure highway driving from Charlottesville, VA to Washington, D.C. I was doing 60-70 MPH the whole time. I was NOT using cruise control as the terrain is "hilly" for about half of the trip. Simply held the accelerator in one position and let the speed vary with the terrain. Say hi to Eileen. Ciao for now."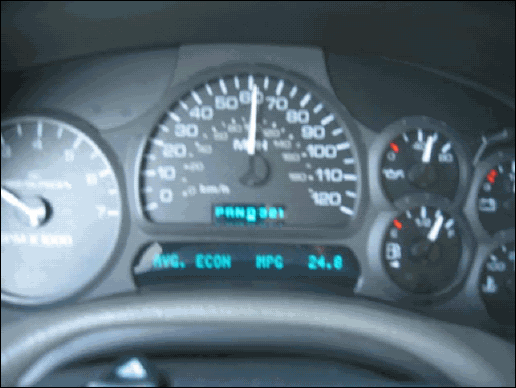 (If you can't read the picture, it shows "Avg. Econ MPG 24.8")
- Will W. - 2002 Envoy

"Thank you. I'm looking forward to installing this system in September as discussed and then squeezing in a couple short towing / camping runs with the kids and family ... Right now, the truck tows pretty effortlessly. Hit 2200 RPM, 105KM/h and it just purrs..."
- Michael P. - 383HT with TBI

"Just tuned 2 6.0 liter's and one 05 LLY. The LLY had a hypertech in it, set to the max. Smoked like crazy and the 1-2 shift was super harsh. It glitched when programming to stock. Left the ECM non-functional. Used your PCM Recovery feature with another stock file that I had that matched his truck, and it worked! Whew! Gave him about 70hp tune w/boost more boost to clean up the smoke, ran awesome! Less power, but he liked the trans shifting and no smoke. It's definitely smoother. Had a beer and made $1400..."
- Joel P. from Paynton Performance - 2005 LLY Duramax

Another satisfied customer from one of our dealers...
Some of our customers get together for their annual "DenaliFest" Check out their "DenaliFest'07"
Dealer to us: "Thought you'd like to see the message I got from Josh S. about the 2007 6.2L tune we just did Tuesday for his Denali."
Customer to dealer: "Got the PCM back this am! Thanks for the fast turnaround. Well, got it put back in and fired her up. At first I wasn't sure what I felt. Definitely more power off the line. Drove it around for about 15 minutes and then started putting the pedal to the metal! I turned off traction control and punched it from a dead stop. HOLY! Smoked all 4 tires and I swear the front end was off the ground a couple inches! As most have said in previous posts, it seems to get better the more I drive it! Thanks again for waking up this sleeping beast.
- Butch. - Advanced Products

"Hey there, Just thought I would give you an update on my project. If you remember a few months ago you supplied me with larger injectors and new ECU for my TBI vortec headed 350. Well I finally got the project on the road last Friday - managed to make few passes in Calgary Friday night. Then Brooke and I headed to Medicine Hat where I ended up Winning Sportsmen Class! Pretty sweet huh!! The truck is running great, I averaged 22mpg including the drive down, cruising around Medicine Hat for a bit, then making 3 passes before fueling up. I am very happy with that."
- Lee H. - GM TBI Truck

We received an email from one of our dealers, Butch. This customer with our custom tune posted on the internet what his feedback is. Click for information Here to read the message board post and replies.
- Wester's Garage

"Hi Lyndon, I drove it pretty good for about 175 miles to see how the fuel mileage is. Couldn't do that for to long so I filled up tonight. I saw 15.75 for my usual mix of country roads/highway driving (hand calculated). That's about a 2-2.5 MPG improvement. Hopefully that carries over when I'm towing. I'd be happy to see at least 12 while pulling a trailer. I layed into it a few times the day installed the tune. I'm not sure how accurate the Edge's performance read out is. That showed a 15.5 1/4 with 0-60 in the mid 7s. I'm going to start playing with it a little more tomorrow to see how the power is. I've noticed that there is hardly any smoke and driveability is very good."
- Tom from Tbyrne Motorsports

"Lyndon, J-LOR's new program works great, customer seems very impressed. The noise is gone and the power feels great. Thanks Lyndon, this customer can be a tough man to please"
- Steve from SS Autoworks

"http://www.silveradoss.com/forums/index.php?act=ST&f=33&t=9234&st=0#entry121400 Lyndon. Its GREAT! I picked up 10-20 throughout the run, peaking to over 30. TQ gains were approx 20. Its a whole new truck! How much did you mess with Torque management, and shift pressure? Not much seems different there. Everything else is spectacular. Now that I am done with my warranty gig I can send my pcm back to you. Whats the address? On another note, my new business partner www.prodyno.com specializes in GM trucks, and ls1/ls6/ls2 cars. He has a truck identical to mine...but cant seem to make the power I do. His is a bit more show than mine. Anyway...we have been thinking lately of buying the unlimited truck ls1edit but have not yet done so. We are averaging 5-8 Radix MagnaCharger installs per week at the shop. Each leave our shop currently on the Superchips/MagnaCharger tune. Id much rather them leave with a Westers Tune!! Lets talk business shall we?"
- Todd H. - Discount Tire Direct

"Well, here's the deal: Wester's Garage, plug in and go, no licensing...
E** ****: make sure you have enough licenses in cue before you do anything, and then when you do program the thing, you have to program, let it tell you it's not licensed, reboot the ECM, then program again, let you license it, then finally program the ECM. If you need licenses, then you have to e-mail the people you purchased from, buy the licenses and then wait x number of hours or days to receive the license unlock code."
- Joel P. from Paynton Performance

"Lyndon-- Here's on more GSL fleet tune they needed quickly. I've attached the stock read and the model tune. These guys are really happy with the work we're doing for them. They are apparently getting a big cut in insurance from governing their trucks, as well as mileage gains for trucks that run 50-70K miles a year. I'm trying to work up a couple more fleet sales based upon the success of this one."
- Brian K.

"I am up and running now. Now I have a real motor, programming seems good now but too soon to tell, it runs real nice, only have 200K on it now. I will let you know if there are any adjustments needed. This motor is real strong!!! Good work on the programming I would say you nailed it. Freddie is impressed with your programming. I am sure you will get more from him now."
- Wayne S.

"Thanks again, your PCM seems to be operating flawlessly. I love the new low end power and it looks like I've gained a bit more fuel economy, but I wont be able to tell for sure until this cold snap stops. Too many minutes sitting in the driveway warming up effects the outcome... Have a great Holiday Season"
- Lance H. - 2002 GZMC 2500HD 4x4

"Thanks Lyndon, I received 2nd place against some 5.0 Mustangs and an "02 SS this weekend only .023 off against the V-8's!!! Job well done Thanks Again, Mike. I would like to get back to you on your program---maybe I'll do some of that here! Overhaul and maintenance for class 8 is getting rough"
- M. Wester - 1998 3.8L Camaro

"Hi Lyndon here is a email letter I received from a customer who is a firefighter , I did his 2004 Duramax Friday: Hey Marty the Wester's Performance Tune is amazing. Its like a whole new truck. My friend wants his wife's Buick Allure done he will be contacting you this week. Also another friend with a 2004 Chevy 2500 Duramax next week. Expect a few phone calls. I will be spreading the word"
- Dealer Martin S., Customer George (emailed custom tune from Wester's Garage) - 2004 Duramax [Ontario]

"Perfect !!! The car now spins the tires at will. Thanks again."
- Shannon - 2001 Corvette [Davenport, Calgary, Alberta]

"To Lyndon, Last we spoke you talked about making me another chip [memcal] There is no need for that the shift points are perfect, the truck has made more power & better acceleration... Thank you for everything you have done."
- K. Browning - 1994 GMC Sierra 4.3 V6 TBI RUNS GREAT [Rockford, Illinois]

"Hey Lyndon, The truck is getting quicker, I ran a personal best of 13.69 at 98mph. This wasn't at the Hat, I ran it in Swift Current last weekend. I plan on getting to the Hat this weekend, and run on a real track. I purchased a new set of BFG drag slicks, but I couldn't hook it all up. I could only pull a 1.92 60 foot when I normally pull a 1.8. I know it still has more in it, Thanks again for all the tuning!"
- Ryan - 1989 TBI Truck [Swift Current, Saskatchewan]

"It pulled so hard off the line (in 4x4) it moved the left rear camber/caster adjuster & I almost drive off the road I think I saw 30 PSI in second & up"
- Dino - 2002 Duramax [Quebec, Canada]